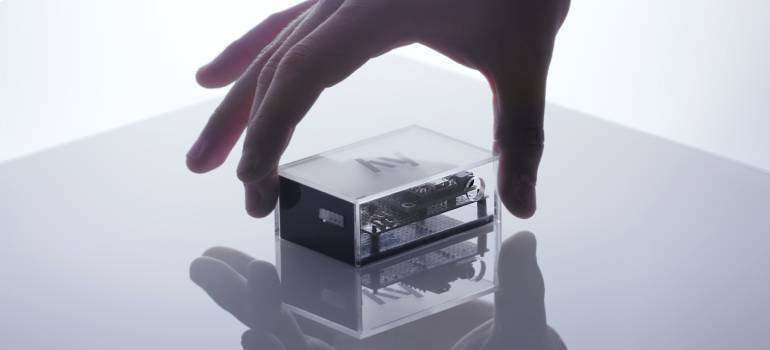 URUGUAYAN COMPANY THE ELECTRIC FACTORY IS A FINALIST ALONG WITH TOYOTA IN THE CANNES LIONS 2021 CREATIVE FESTIVAL
Publication date: 07/06/2021
The HY Project has already been honored at the World Changing Ideas Awards 2020 for its transformative potential.
The international creativity festival, Cannes Lions 2021, announced its finalists and among them is the initiative The HY Project, from the Uruguayan company The Elecrtic Factory and Ayax Toyota. This time the joint project competes in the category "Innovation / Applied Innovation".
In 2020 the prestigious business, technology and innovation magazine Fast World recognized The HY Project as one of the eight finalist ideas in the World Changing Ideas Awards 2020 and before that the project was a finalist in the SXSW Awards in the Smart City, Transportation and Logistic category.
In conjunction with Ayax Toyota and Curcio Capital -through its president Alejandro Curcio-, The Electric Factory created an acoustic warning system (AVAS) for electric and hybrid cars that not only alerts pedestrians, but also benefits nature, with a sound that contributes to the growth of plants and facilitates animal communication.
The project, which received support from Uruguay XXI, "combines innovation, technology and sustainability to achieve a better world and generate creative impact," said The Electric Factory's co-founder and head of innovation, Juan Ciapessoni.
The creation of this acoustic vehicle alerting system, the first to focus on benefiting the environment, heralds new times for the automotive industry, which is looking towards ecological sustainability. In line with that concern, and after a fruitful exchange with scientists and government authorities, Ayax and Uruguay's The Electric Factory launched The HY Project (from the word "harmony"), which seeks to rebuild harmony between man and the environment.
"We are at a time when clean technologies are in vogue. The planet sustainability is on most companies' agenda. This invention is in line with that. We are thinking about how to leave a footprint that will leave the earth in better conditions for the generations to come",  Ciapessoni expressed.
The notoriety gained by this disruptive invention shows the explosive development of Uruguay in terms of technology and innovation. It also highlights the country's favorable ecosystem for this type of initiative, thanks to the talent of its professionals and the public-private synergy.
"Uruguay has the power to become an innovation hub. Thanks to its scale, infrastructure and costs, the country has a lot to offer as a global platform for testing and prototyping. We have an enormous potential for entrepreneurs from all over the world to come to Uruguay to create their inventions, for world talent to come here to develop, research, prototype and test their projects. Hopefully those projects will be linked to the areas of innovation, sustainability and new technologies ," Ciapessoni said. 
In this sense, the developer highlighted the pioneering nature of the project he is directing. "HY puts Uruguay in the spotlight, as a disruptive country. We are inspiring, we are showing that you do not need a mayor investment to generate an impact that can change the world," he concluded.
Read more about The HY Project here