2019 - On January 14th, Punta del Este will be helding one of the regions biggest IT Summit: PuntaTech Meetup.
The best setting, worldclass networking spaces and the best excuse to discover Uruguay as the ultimate business destination in Latin America. 
PuntaTech Meetup 2019 - About the event: Punta Tech Meetup is one of the most important tech gatherings in the region, where technology leaders from Latin America and the world come together every year. Punta del Este provides the ideal natural setting for entrepreneurs, investors and business executives to meet and share their ideas and projects, and do business together. The spirit of the event is to foster the meeting of key stakeholders in the world of technology and business so that they can exchange ideas and strengthen their connections in one of the main seaside resorts in the region. Connecting people and promoting good business opportunities are the essential factors that guide the spirit of this event.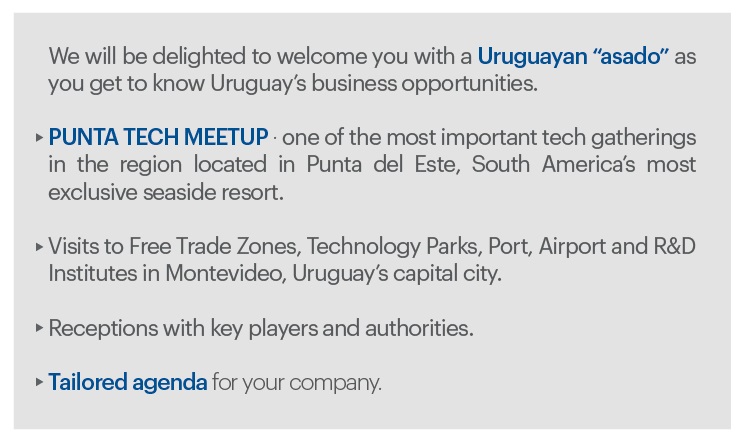 UruguayXXI provides a tailored agenda during the week for you to discover the business opportunities Uruguay offers for diverse industries and platforms. 
About Uruguay:
Uruguay has become the most reliable destination for Global Corporate Service Centers in Latin America. Every year, global companies establish regional centers that combine platforms or activities of: regional distribution centers, regional corporate centers, shared service centers, shopping centers, IT development centers, R & D centers and advanced manufacturing projects.
Although the country is particularly attractive for the location of Captive Centers, it is also a chosen destination for outsourcing centers focused on high-value tasks: BPO and KPO centers. 
Offshoring services represent 18% of total Uruguayan exports. The operations are focused on Spanish-speaking Latin American countries, Brazil, America as a whole or globally.